REDERIC-For a different cross-country ski experience put Forbush Corner on your ski list.
Located just east of I-75 at exit 264, 20 miles south of Gaylord, a short drive to the east brings you to Forbush Corner.
You'll know you've arrived when you come to the split rail fence and a maintenance shed with a couple of red and white Pisten Bully groomers parked in front of it.
If the 35 kilometers of groomed trails aren't enough skiing for you, get on a connector trail to Hartwick Pines State Park and it's eight miles of trail. Trails are also open for snowshoeing.
Chances are if you see a groomer out and about Larry Dami, one of Forbush's owners, will be at the wheel.
These German built snow machines are huge and designed for moving snow, laying track and grooming.
"We offer beginning to advanced trails," Dami said as he operated one of the Pisten Bully rigs. "There's a little bit of trail system for everyone," he said with a smile and added, "We had a three-year-old girl out here skiing."
The trails at Forbush are 12-feet wide making lots of room to navigate hills and curves as you glide through a coniferous forest that seems to never end.
Forbush Corner was begun as a cross-country ski destination in 1986 under the ownership of Dave Forbush.
Forbush's grandfather owned the farm known as the largest apple orchard in the country. Eventually it received Centennial Farm status.
"The soil around here wasn't very good for an apple orchard," Dami said. He's been a co-owner for the past three years.
"Most of the people that come here ski free style. We do get some skaters," he said.
Forbush opens at Thanksgiving and closes for the season in March or early April, depending on the weather.
Dami began cross-country skiing when he was 16. "I skied the first White Pine Stampede in 1977. Gus Knopnicki, the founder of the race, led the way on a snowmobile with everyone following."
He's also skied the Birkebeiner cross-country ski race in Wisconsin, the oldest ski race in the country.
Forbush Corner offers ski lessons, custom fitting, along with ski rental and sales and one kilometer of lighted trail.
Weekend hours are Friday-Sunday, 9a.m.-5p.m. Call for other open days and time at (989) 889-1644 or visit forbushcorner.com.
Make a day of skiing. Bring your lunch, warm up in the snack shop/clubhouse and enjoy soup, beverages and a warming area.
Forbush Corner Cross Country Ski area. Co-owner Lary Dami near Pisten Bully track layer. By Roger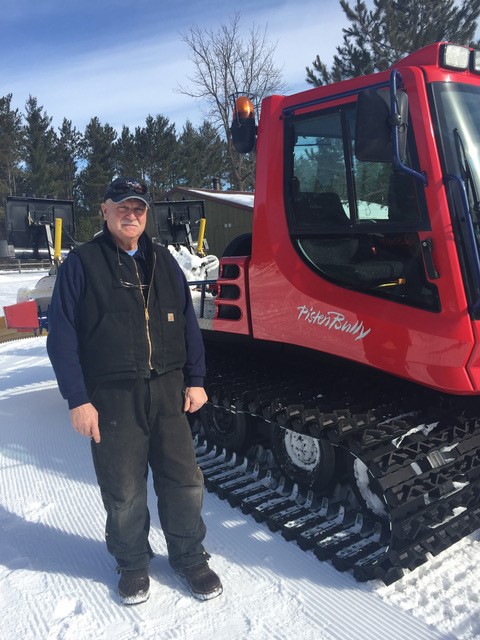 Beukema