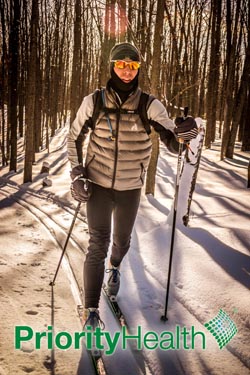 Mother nature has been busy lately, blanketing northern Michigan with over a foot of fluffy, white lake-effect snow this week. Are you ready to get outside for some winter fun? We've got you covered!
Priority Health Winter Trail Days (January 10 and 11) offers children and adults new to snow sports the chance to try snowshoeing and cross-country skiing for FREE! Discover the great fitness and social benefits of these easy-to-learn winter sports while enjoying the spectacular beauty of our northern surroundings.
How-to clinics, tours, and other special events are scheduled at Winter Trails destinations across northern Michigan, so find a trail and get out there! Contact individual member properties for event details.
See you on the trail!