Cross country skiing has routinely been cited as one of the best forms of exercise and recreation that people can do. Now more than ever before, nordic skiing is uniquely positioned to offer tremendous benefits in health and well-being. Here are just some of the reasons why cross country skiing should be at the top of your list when the snow flies.
Nature is the Healthiest and Safest Place to Be
The outdoor environment of XC skiing is, by nature, one of the safest and most beneficial places one could spend time recreating and exercising. It is not just that XC skiing takes place outdoors, but that it takes place in the forest or in natural areas, that gives it a unique edge. Spending time in nature (rather than on a city sidewalk or crowded gym) offers tremendous benefits to physical and mental health. Immersing oneself in a forest setting has been shown to boost the immune system, accelerate recovery from illness, reduce stress hormone production, lower heart rate and blood pressure, improve feelings of happiness and free up creativity. This means that, even at a leisurely pace, skiing in the woods is incredibly good for your body, brain and spirit; you don't even have to work up a sweat to benefit greatly!
Of particular relevance in modern times, cross country skiing is an activity which naturally lends itself to solitude and small groups, where crowds, lines, and close quarters with other people are almost nonexistent. No mask, hand sanitizer, or physical-distancing concerns are required on a cross country ski trail; it's just you, the snow, the woods, wildlife, and perhaps a family member or friend. The winter wonderland memory of fun and exhilaration will give you a good reason to smile!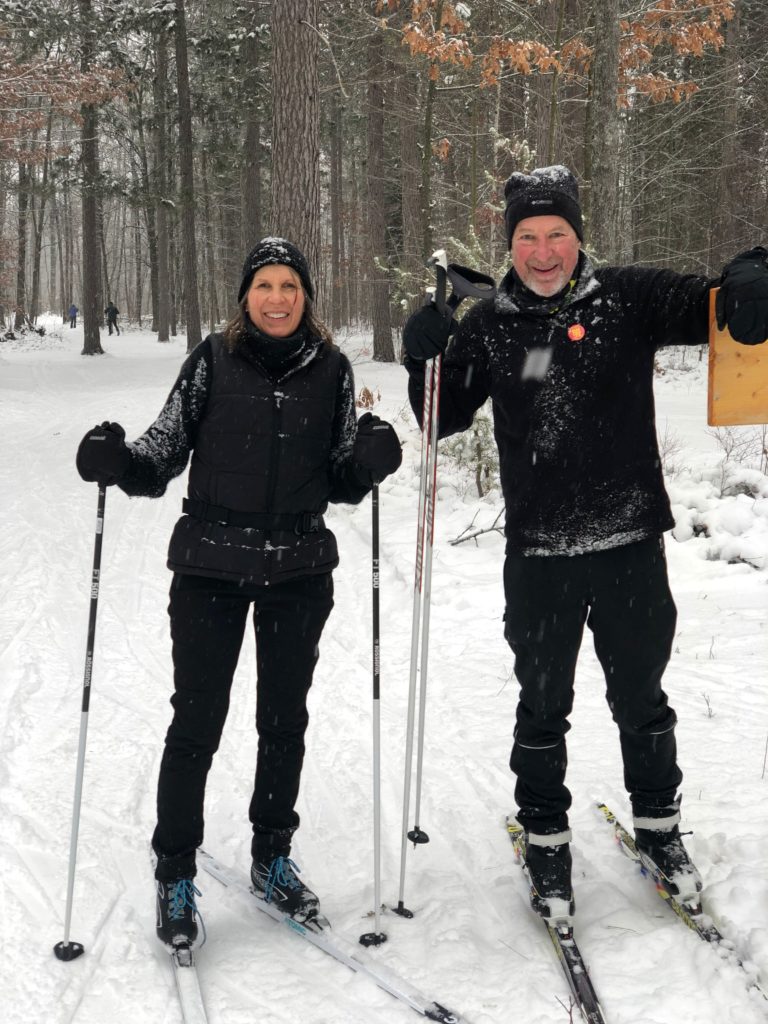 Cross Country Skiing Naturally Improves Health and Well-Being
Cross country skiing is one of the best full-body, low-impact physical activities there is. Kicking and gliding through the woods is a sure fire way to improve cardiovascular and lung health, thus offering tremendous upsides towards fighting off respiratory and other illnesses. Cross country skiing is a safe and effective form of exercise for just about everyone, and can be done day after day without wearing out the skier. What's more, because there are several kinds of cross country skiing, you'll never get bored! Classic ski along a groomed trail one day, put on some skate skis and feel like you're flying the next, then pack a picnic and adventure out to some ungroomed, back-country trails after that! Add a day of snowshoeing to the mix, and before long, you'll be wishing winter lasted much longer.
Regarding well-being, there is a reason why people cross country ski well into their 70's, 80's, and even 90's. There is a reason why, when skiers come inside after being out on the trails, they have what can only be described as a "post-ski glow". And, there is a reason why cross country skiers tend to be some of the happiest people around. Here is what Bill Koch, an Olympic medalist and modern American pioneer of the sport, has to say about it:
"One of the great things about [cross country skiing] is that it is a lifetime thing. You can enjoy it until you can hardly walk anymore. It runs the whole spectrum from the physical to the mental, all the way to the spiritual for those who want to seek it that far. There is something about the movements of cross country skiing that I think is almost primordial. There is something essential about it that, I think, grips a pretty large percentage of the people who venture into it. You combine those movements with the natural environment —the natural environment in winter is especially intriguing and mysterious."
Cross country skiing offers a chance to experience a simple and authentic sense of well-being. The joy of movement, of breathing in fresh air, and of being surrounded by natural beauty awaits. Add that XC skiing is one of the most affordable winter sports out there (complete XC Ski HQ ski packages start at $274, and rentals plus a trail pass are just $20 per day), and it's clear that XC skiing just may be the best activity you can do this winter.