ROSCOMMON-The Michigan Ski Hall of Fame presented Bob Frye, owner of Cross Country Ski Headquarters in Roscommon, with the 2016 Lifetime Achievement Award for Outstanding Leadership and Contributions to the Ski Industry in Michigan.
Bob and his wife Lynne have been operating their ski shop since 1977.
Describing his induction as a big surprise, Frye was recognized not only by other Michigan ski resorts but by Midwest ski dealers as well.
This achievement was only met with our customers. Without them we wouldn't have this award. I owe it to all the skiers and cross-country skiers in Michigan, Frye said.
Frye said his wife Lynne has worked side by side with him all of these years.
I thought that my wife Lynne should have been inducted into the Hall of Fame also as she is such an intricate part of this business, he said.
Last year, the Frye's sold Cross Country Ski Headquarters to their daughter Mariah and her husband Stuart Collie, however, both Lynne and Bob can be found at the shop most days.
Frye has been a strong voice supporting families, promoting getting outdoors in the winter and cross-country skiing for winter enjoyment and exercise.
The biggest thing that got us going was the terrain here in Michigan. It's ideal for cross- country skiing.
Michigan is extraordinary for downhill skiing but really extraordinary for cross-country skiing, he said.
Along with a shop offering everything cross-country skiing; the latest in clothing, skis and poles, walking poles, ski boots, bindings and installation and other accessories such as lip balm and headlights, Cross-Country Ski Headquarters has its own practice loop with a teaching area.
Skis may be rented or demoed. Once you've had a lesson or tried out those new skis, head indoors to the Stone Turtle snack shop.
You'll find a warming fire, plenty of seats and tables and great soup and homemade sandwiches to keep you energized. Or bring your lunch and eat inside where it's warm.
The practice loop-Blizzard Ski Park and Trail- is accessible early in the season when snowfall hasn't been enough to cover trails.
We operate our own snow making equipment for making snow early if there isn't enough to get going, Frye said.
Once you are comfortable on your new skis, head for one of seven nearby trails ranging from beginner to intermediate levels of skiing.
Trails total 11.2 miles or 20 kilometers and groomed daily along with trail clearing as needed. On weekends stop by Trappers Cabin located trailside for a warm fire and snack.
A board member of the Cross-Country Ski Areas of America for eight years, Frye also was on the board for the National Cross-Country Committee of Snowsports Industries of America for four years.
This is the Heart of Michigan, Frye said. It's a cross-country ski trilogy that includes Cross-Country Ski Headquarters, Hansen Hills and Forbush Corner all nearby.
In 1988 Frye, along with Treetops General Manager Barry Owens formed the Great Lakes Nordic Ski Council, which is now known as the Great Lake Winter Trails Council. Frye remains as president of the Trails Council.
Frye served on the board of Cross-Country Ski Areas of America for eight years and on the Nation Cross-Country Committee of SIA (Snowsports Industries of America) for four years.
Frye holds the patent for the popular ski accessory called Ski Bones since 1982 after the company went out of business. He further developed Ski Bones making it a lasting product.
Sold throughout the country, Ski Bones, used to hold skis together, are Michigan made from rubber.
The Cross-Country Ski Headquarters is open for the ski season on October 29 remaining open seven days a week until seasons end.
For more information visit crosscountryski.com or call (989) 821-6661 or (800) 832-2663. For trails information in Michigan visit mywintertrails.org.
Michigan Ski Hall of Fame inductee, Bob Frye. By Roger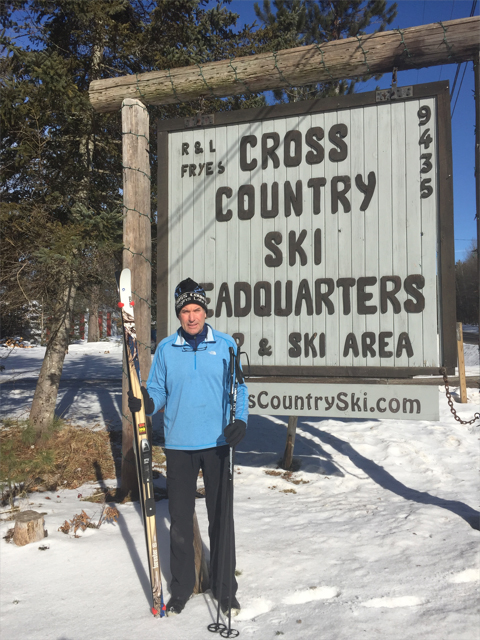 Beukema